This piece was originally published March 20, 2007.
AUSTIN, Texas — A dusty field in Texas. A ramshackle house in a cash-strapped part of town. The cramped, battered office of a high school guidance counselor.
They're all unlikely places for a creative revolution, but there's no other way to describe what's happening on the set of "Friday Night Lights," NBC's acclaimed series about life in the small town of Dillon, Texas.
Far from the bright lights of Hollywood, in vibrant yet laid-back Austin, the actors, writers and directors of the show have created one of the most realistic, subtle, enthralling dramas on any screen, large or small. And they've done it on this first-year show by breaking many of the rules of television.
"When I first came on [the 'FNL'] set, I thought, it's interesting — this is what I imagined filmmaking would be, before I saw what filmmaking was," says executive producer Jason Katims, the show's head writer and a veteran of beloved cult series such as "Roswell" and "My So-Called Life."
"What I imagined it would be was, people moving really fast, actors trying this and trying that, everybody being very excited, and it being very creative and it being a place to sort of discover things. That's what I thought it would be, and this is the first time I actually saw it work that way."
Indeed, a visit to the set of "Friday Night Lights," which touches on the fortunes of the Dillon High School Panthers football team but is much more about the lives of the residents of the town, demonstrates that the show's creative process is like nothing else on television.
There are no fancy lighting setups. Actors are not only allowed but encouraged to improvise their lines. Every single scene is shot in real locations, unlike most TV series, which use prefabricated sets. And with inspiration from what director of photography David Boyd calls "gonzo documentary guys" such as D.A. Pennebaker and David and Albert Maysles, three cameras simultaneously record the action, capturing nuances and moments that many other shows ignore in their forced march to the next plot point.
It took a little time to settle into its groove — even NBC entertainment president Kevin Reilly says he got a little tired of the show's "jiggly camera" style, which has been toned down since the pilot.
But over the past six months, as it has unfurled surprising, deeply human stories about an injured quarterback suing his coach; a high school boy's attempt to care for his sick grandmother; and one couple's attempt to raise a spirited, smart daughter while dealing with the pressures of modern life, "Friday Night Lights" has quickly become appointment television for a growing number of critics and fans.
One of several fan sites devoted to campaigning for a second "FNL" season, fightforlights.com, has collected dozens of the show's critical raves, and a recent Tribune column on the show prompted an outpouring of more than 100 positive emails and message-board comments from readers.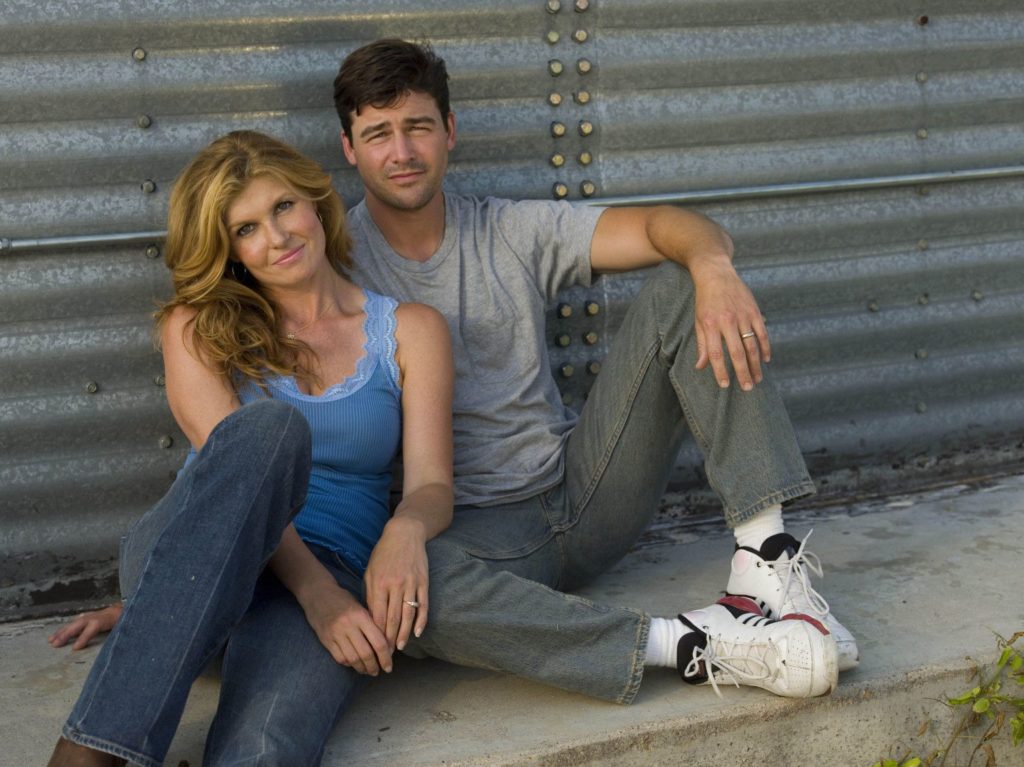 "Everything about the show just feels so natural and real, which is a rarity on TV. It's not about quippy one-liners or bombastic arguments," one commenter wrote. "All of the characters are flawed, some more than others. But all of it is beautiful to watch."
Though the "FNL" audience has hovered around 7 million viewers, well below NBC's expectations, its viewers are positively rabid about the show, as Reilly well knows.
"I just got an e-mail today forwarded to me from one of the heads of one of the major advertising agencies — and I literally get a version of this every day — saying this is the best television show in years, or the best television show on the air," Reilly says.
"Everything's real, and all the relationships [make you] feel like you know these people," says Scott Porter, who plays former Panther quarterback Jason Street, the character who was paralyzed in the show's first episode. "I think that's why people who watch the show have such a strong connection to it."
But if fans travel to Austin to find the show's fancy soundstages, they'll be out of luck. There is a bare-bones production office on the outskirts of the city, but there is no soundstage, there are no sets.
All scenes are shot in houses, businesses and stores in and around Austin, which is where you'll find the gritty high school that doubles as the home of the Dillon Panthers, the tiny house that quarterback Matt Saracen (Evanston's Zach Gilford) shares with his grandma, and the fast-food joint that doubles as one of the show's hangouts, the Alamo Freeze.
On the farthest outskirts of Austin on a recent February evening, klieg lights and cranes carrying a rainmaking machine were poised like towering robots over that day's set, which recently had been home to a herd of cows, judging by what was underfoot. In the March 28 episode, which was filming that night, circumstances force the residents of Dillon to build an improvised football field for an important Panthers game.
On the sidelines, Tim and Billy Riggins —actors Taylor Kitsch and Derek Phillips — tossed perfect spirals at each other during breaks in the filming. Extras wandered around in Dillon Panther shirts and waved pennants during the big plays, which were filmed until the wee hours. As the night wore on and this "Mud Bowl" episode lived up to its name, the actors playing the Panther team members and coaches were soaked by the rain and covered in mud. Nobody minded.
Addressing the show's critical acclaim and glowing press notices, Kyle Chandler, who plays Coach Eric Taylor, said in an interview the next day, "I don't think anyone's going, 'Oh, well, now I'm going to get this new car.' I think all the actors on this show love the process more than anything we'll get out of it in the long run. I love this process. It's an actor's dream."
Shooting in real locations in Texas has given the show an authentic feel that it would never have had in Los Angeles, says Chandler, who was raised in a small town in Georgia.
"When you live in this town, you are from Texas. You're experiencing and feeling it," Chandler said. "Austin is a great place. It's not hard to get ideas for your character when you just go to breakfast across the street."
But there's far more to the show than a palpable sense of place. The show's actors and directors have unprecedented freedom to change lines, alter scenes and improvise moments that feel true to the moment and to their characters. And the show's writers, who've come up with some of the most nuanced, compelling story lines on television (most of which don't have a thing to do with football, despite the show's origins as H.G. Bissinger's non-fiction account of a real Texas high school football team), are fine with those improvised alterations.
"Truthfully, 95 percent of the time, the actors are only lifting up what we originally envisioned as writers," says Katims. "Every once in a while, you'll be like, 'I wanted that line because I wanted that transition.' But you work it out."
But on most shows, changing one line – heck, one word — of dialogue can lead to tense negotiations between actors, director and writers.
"Normally you've got a writer sitting there, watching every single word," says Jesse Plemons, who plays Landry Clarke.
In the tiny high school guidance counselor's office that serves as the office of Dillon High School counselor Tami Taylor (Connie Britton), the quest to convey the emotional truth of a scene and not just recite each word as scripted was demonstrated again and again.
In the scene being shot that night, for a different upcoming episode, Landry is struggling to tell Taylor, a Dillon guidance counselor, about a friend who has been physically attacked. Taylor's comforting words change slightly with each take. And the words Landry is struggling for come out differently every time; he doesn't want to reveal the friend's name, and at one point, Taylor thinks he may have been the one who was assaulted. The words keep changing, but the emotional impact only grows as Britton and Plemons mine the difficult emotions at the heart of this moment.
"We try to definitely hit all the points in a scene, but we're allowed to change the lines around to kind of fit us and fit our characters," says Plemons.
Co-executive producer Jeffrey Reiner, who's directed many of the show's first-season episodes, talks about filming an early scene in which Tami was supposed to come in the Taylors' living room and say she "can't stop thinking about" Street's injury, as her husband, the coach, sat watching game films.
"We tried it, then I gave the line to the coach," Reiner says. "And it was better. But then I took the line out. I said [to Britton], 'Come in, look at him watching TV, know what's on his mind. Kyle, you look at her, tell her to come over, and just kiss her.' And that's what the scene was. [Executive producer] Pete Berg [who directed the film 'Friday Night Lights' and the TV show's pilot] called me and said he loved that scene, because it was just a little moment of behavior."
Another one small example: In a recent scene in which Saracen shops for an "I'm sorry" gift for his girlfriend at a jewelry store, the older woman behind the counter asked about Saracen's transgression: "Was it diamond bad, or gold bad?"
That woman almost wasn't in the scene. A younger extra had been hired to play the part of the jewelry store clerk – who wasn't supposed to talk. Reiner put the older woman – who really worked at the store – back behind the counter. And she came up with that line.
"She just made that up," Reiner said. "When we were looking for a real pastor, we used a real pastor from a church. When we do a church sequence, we are shooting a real church sequence. I'll even throw in the principal of the school – 'OK, you're acting now.' Even if that person might get cut out, it sets a tone. What it starts doing is, it starts lending this realism to the show, and the cast and the crew feel it."
But the tone is also set by the unique, documentary style of the show's three roving cameras. As television drama has matured, many shows, such as "24," "Battlestar Galactica" and "The Shield," have used multiple cameras or documentary-style shooting to amplify the energy and the emotional impact of their shows. But the constant use of at least three cameras is highly unusual, as is the fact that the actors don't rehearse their scenes ahead of time.
"When we start rehearsing a scene, it's like rehearsing a play," Chandler says. "That's [my] favorite part of a play, because it's the exploration, it's the finding of the characters and what's going on. Because it's so raw like that when we start shooting scenes, things are found really quickly that you just never find in any other way."
"There's nothing technical about our approach," Reiner adds. "In a regular TV show, actors have to hit their marks, and they rehearse, and they have to wait for the lighting. With our show, before you know it, we're shooting. There's no rehearsal. There are no marks. We have very minimal lighting. … I'll say, 'I want a camera here and a camera here. The third camera — you surprise me.'"
Director of photography David Boyd, who's a bundle of ebullient energy topped by wild blond curls, last worked on HBO's "Deadwood," but he also has a background shooting documentaries and NOVA specials.
Sitting at a table in the show's on-location headquarters in an Austin recreation center, where the cast and crew are loading their plates with a late dinner, Boyd is asked how far the cameras would be from the table if this interview were being filmed for the show. He leaps up and bounds over to a table at least 15 feet away, and crouches behind it, as if holding a camera. If you weren't looking for him, you wouldn't know he's there.
"You don't have to worry about the cameras on this show," says Gilford. "Half the time I don't even know where they are."
"It's all centered around the performance," says Boyd, who's also directed episodes of the show. "All this is totally designed from the very beginning to get the best possible, most real performance out of an actor."
The actors wear body microphones, so cameras can remain at a distance from the action if necessary, but, as Boyd points out, the long lenses on the cameras ensure that they get every nuance and glance. The three cameras also ensure that the show's editors get many more hours of raw footage than most dramas do, which the editors cut in surprising, creative ways that can upend viewers' expectations.
Chandler, sitting near the bowling alley of the rec center, recalled a recent scene in which Tami Taylor confronted her daughter Julie (Aimee Teegarden) about her desire to have sex for the first time. Julie elected not to take that step in the end, but the scene, of Tami battling both her own fear and her daughter's budding rebellion, was wrenching to watch.
"At the end of that scene, which is a long scene, I think they must have held on those two [hugging] for at least five seconds," Chandler said. "You don't see that much on TV, where there's nothing being said. That hug and that pause and that silence — it allows all of us to sit back after what we've seen and take it in for a second. You're able to absorb it."
"FNL's" unusual shooting style allows it to do something that, up until recently, had been frowned upon in TV — filming both sides of a scene at the same time. On most dramas and in films, one actor's face is shot for a scene, then, after lighting setups are changed, the other actor in the scene is filmed. If there are more than two actors in a scene, the process is repeated again. All those lighting setups and so forth can make for 14- to 16-hour days.
"You'll come in and do a great scene, then you sit in your trailer," say Brooke Langton, who's in the midst of a 4-episode arc as the new neighbor of the Riggins brothers. "It's hard as an artist to keep that momentum going."
"In a film, you're trying to film two hours and you have three months to do it," notes Connie Britton. "In hourlong [drama], you're trying to make one hour [of TV] in eight days. But they're still shooting it as if it's a film."
By filming two or three actors at once, "FNL's" shooting style not only saves time (most shooting days last eight hours, at most), but it also gives scenes an extra dose of energy, because the actors aren't saving their best work for their own takes.
"I've gotten so used to this style of shooting, it's going to be hard to go back to the way it is in the real world," says Plemons, who has guested on "Grey's Anatomy" and "CSI." "I had a few auditions, and in my mind, I'm already looking at scripts completely differently than I ever have. This shooting style is so unique, the camera can be on you at any time. You do have to stay on your toes. It's a good lesson."
If anything, the process requires more discipline and focus, not less, Chandler says.
"A lot of people go, 'Oh, you guys improv that,'" Chandler says. "No, we don't improv it. It's far more than improv. Pete Berg said, 'The few rules to the game that we play are, you come to the set, you know your character 110 percent, you know the lines that are on the page 110 percent, and then be prepared to get rid of everything and start all over.'"
"FNL's" reliance on real locations has also freed up the writers' imaginations, Katims says. On most shows, there are a few standing sets, and each week, one or two temporary sets can be built. But that's it — a TV show can't really go to more places, via additional sets or shooting on location, without spending a lot of money. But "FNL" isn't that expensive to make, comparatively speaking, so its filmmakers can go anywhere they want to go.
"If you were building sets, you never would have built Tyra Collette's house," Katims says, referring to a rebellious young woman whom Julie Taylor befriends. "But we've been able to, because of the way the show is made, go into her [troubled] house, meet her mom, meet her sister, see where her sister [works], see what their world is like. I think that as a result, we understand that girl, in a way we never would have understood her."
But the question remains: In the usually risk-averse world of the broadcast networks, how on earth did this show, which has all the depth and uncompromising integrity of a top-notch cable drama, get made? And why hasn't NBC messed around with "FNL's" creative process, given that the show has struggled in the ratings?
As Katims says, a network's usual response to a low-rated show is not "'How do we find the audience for this show?' but, 'What's wrong with this show?' But they haven't done that at all. It's a rare experience."
"When they went with the [pilot] script originally, they had a lot of confidence that it [had been] a movie, and it had the same director as the movie," says Reiner. "So [Berg] went and did [the pilot] and it was great, and the people at NBC said, 'Why break it?' I think it happened before they even realized what was upon them."
Having said that, the network does give the typical feedback "notes" that every TV show receives, Katims says. And there were conversations in the early going about those jiggly cameras.
"With some of that first batch of episodes, we had guys trying to mimic [the pilot episode] by being very herky-jerky with the camera and just trying a little too hard to be artsy," Reilly says. "I remember there was a terrific scene in the diner, but [the director] shot the whole thing through the blinds. And I just said, 'I'd like to actually see the people.' And all the producers agreed. So we did settle it down a little bit."
If "FNL" comes back for a second season, the only major retooling Reilly envisions for it concerns the show's marketing. By focusing on the football aspect of the show, last fall's ads for "FNL" made women feel the show was not for them, when in fact, some weeks there's no football at all, and the Texas drama can be every bit as relationship-driven as anything on ABC's roster.
"At its core, it's a women's show," Reilly says.
As Britton says, "It doesn't matter if you're living in a small town in Texas or New York City. We're still talking about a mother-daughter relationship. If you can't stand football but you're passionate about anything, you're going to be able to relate to this."
In an effort to get new viewers onboard, the network is re-airing episodes of "FNL" on sister channel Bravo, offering every episode for free online at nbc.com and even giving out the occasional freebie on iTunes. Reruns over the summer may help, as well as a planned DVD summer release.
"That's what we need to do — come up with a relaunch plan," Reilly says. "We need to give people a chance to get into it. I can't just flip the switch back on in the fall."
But that's all dependent on whether the show comes back. The possibility exists that "FNL," which owes much of its realism and depth to the world of cable drama, is just too good for the broadcast networks. Though the show has many fans at the network, the show's Nielsen numbers may not ever warm an NBC bean-counter's heart.
"I do believe that the audience is capable of embracing quality. But a lot of times, they'll be like, 'Why isn't there ever anything good on TV? Put something good on,'" says Reilly, whose response to that hypothetical viewer is, "'Uh, if you watched this, it would help.'"