Hi! I have been an entertainment critic and a journalist for a long time, and these days I am a Contributing Editor at Vanity Fair (thus feel free to address me as Baroness Von Ryan). I'm also the author of the book Burn It Down: Power, Complicity and a Call for Change in Hollywood, which came out June 6.
The book is my reaction to and examination of the trends that produced #MeToo and various racial reckonings as well as the labor unrest gripping Hollywood during Hot Strike Summer. For the book, I interviewed more than 150 people at all levels of the industry, and did several deep dives on troubled productions and franchises — reporting that illuminates how entrenched the biggest problems are.
The chapter on serious problems at the hit TV show Lost and its "poisonous culture" was excerpted by Vanity Fair (there's a longer version of this chapter in the book). The week that Lost excerpt came out was a wild, tumultuous ride, and I'm beyond grateful that the great folks at the ATX TV Festival gave a panel to myself and writer/creators Javier Grillo-Marxuach and Melinda Hsu Taylor (both were sources for that chapter and many other parts of the book), so we could process the whole thing. On that panel, which is available via the TV Campfire podcast, we talked about the polar bear in the room, but also about industry change and the strikes and so much more. It was a singular moment and I was thrilled to share that moment with the ATX family. 
In any event, Burn It Down is a look at how much has changed in the American TV and film industries and how much hasn't, and it delves into why some problems remain stubbornly persistent. That said, a number of industry people are working to reform Hollywood on many different fronts, and I'm happy to say that I spoke to dozens of those brave, persistent, amusing and intelligent folks. 
I'm excited to say that the book (which is available via Bookshop, Amazon, Barnes & Noble and all other audiobook and book retailers) hit the New York Times best-seller list (twice!) and Los Angeles Times best-seller lists (a number of times but I won't put all the links here)! Publishers Weekly, in its review, said the book "makes a convincing case for rebooting Hollywood."
The day the book came out, I published this piece on Charisma Carpenter, Cordelia Chase (her Buffy and Angel character), and why the way they carried themselves in life and on screen got me through some incredibly hard times. I'm so, so proud of this essay and thrilled that Roxane Gay and Meg Pillow of The Audacity published it (read The Audacity, it rules!). By the way, you do not have to subscribe to the Audacity to read the piece.  
Here's some of the coverage of the book that I enjoyed a whole bunch (and I'm adding to this list as links come in):
And now: podcastery! My whole personality is now "I will go on your podcast and yell about Hollywood fuckery" (well sometimes it's not yelling, it's just, uh, witty and/or forceful chatting). Anyway, here's selection of radio/podcast appearances (which are generally available on most if not all leading podcast platforms):
In other news, I will be at Chicago's Printer's Row Lit Fest September 10 on a panel with author Mikki Kendall, and I'm super excited about it — come on down if you can. 
Also, I just about died (in a good way!) when this feedback from Kerry Washington came across my Instagram feed. If you find the type too small to read, she called it "great reading to contextualize this necessary strike" and "Fascinating. Devastating. Important." Wow!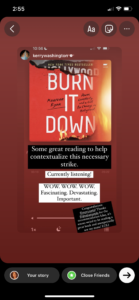 If you want to know more about the book, what I'm watching and what I'm thinking about, I have an email newsletter. Please sign up for Burner Account today! It is free! In the newsletter, I have shared thoughts on the passing of Sinéad O'Connor, the death of Twitter (which then didn't die — rude), Dark Winds, Rutherford Falls, For All Mankind and Star Trek: Picard, among other topics. By the way, here are the main places that the book and I exist online, so far anyway! 
The rest of this post mainly features links to my recent and somewhat recent writing and pre-book podcast appearances. That's what you find when you read on — thanks for visiting, and enjoy! 
Continue reading Links to my work, media and podcast appearances, plus news on my book Burn It Down