"Slings & Arrows" arrives on Acorn's streaming service on Monday, Nov. 4, which should be a national holiday in North America, probably.
I wrote about "Slings," the great Canadian series, twice about a decade ago. The first piece I'm republishing below is from 2008 and is an overview written on the occasion of the show's DVD box-set release. The second story, from 2007, focuses on the third and final season. Each season is only six episodes long, which may well be a selling point for many folks overwhelmed by #content.
If you've never seen the show, you can read the first few paragraphs of the first piece safely. There are a few mild spoilers in these pieces but 1. They shouldn't interfere with your enjoyment of "Slings" in any way, if the show ends up being your kind of thing and 2. I've marked where to stop reading the first piece if you'd rather go in knowing nothing.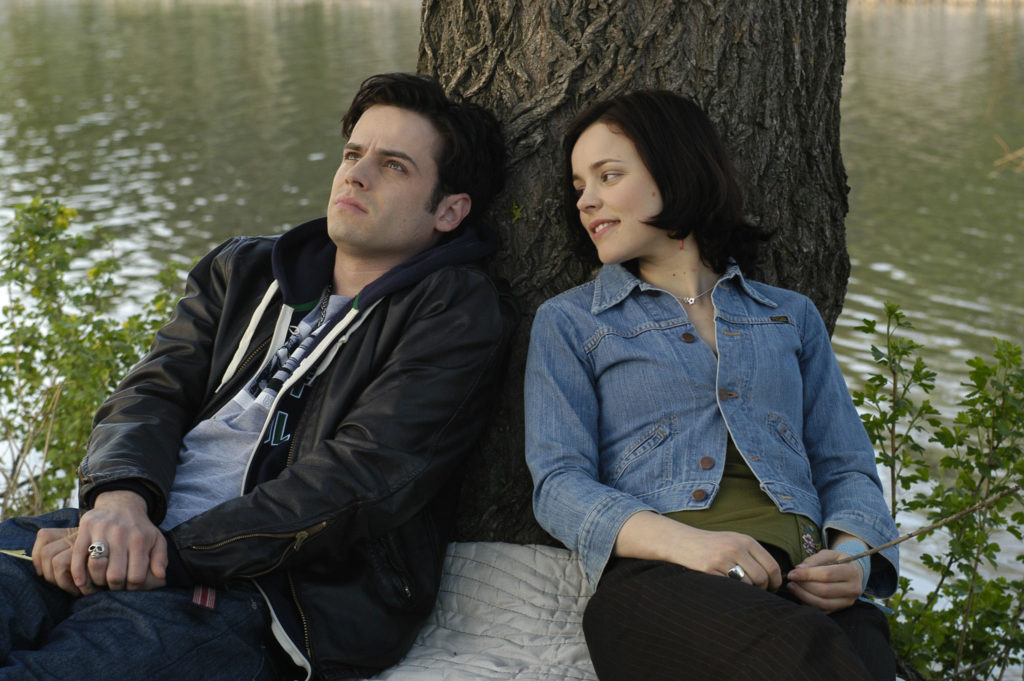 You should definitely go in knowing that I love "Slings & Arrows" and that I consider it one of the great unheralded gems of the last couple of decades. It's lovingly knowing about how hard (and how joyous) it can be to create good art, it's often quite funny, it's genuinely moving at times, and it features fine performances from Paul Gross, Rachel McAdams, Luke Kirby, Mark McKinney, Sarah Polley, Colm Feore, Stephen Ouimette, William Hutt, Don McKellar and many others.
A note about its arrival on Acorn: Season 1 arrives Nov. 4, Season 2 shows up Nov. 25 and Season 3 hits the service Dec. 16. And I know there are now approximately eight million streaming services vying for your money, but if you like U.K. TV, consider signing up for Acorn. It's particularly strong on British TV and, in general, shows in which people wear sweaters while drinking tea or solving crimes (or both).
Acorn's press release reminds me that New Yorker critic Emily Nussbaum called "Slings" "the single best TV show about theater ever made," and she is correct. That said, it's about more than just theater; it's really about why people choose to pursue creative endeavors, despite how hard those paths usually are. "Slings" blends smart satire and humane insight in equal measures, and that is a genuinely hard thing to do. A couple of weeks ago, I tweeted about this Acorn release and the love for the show remains strong.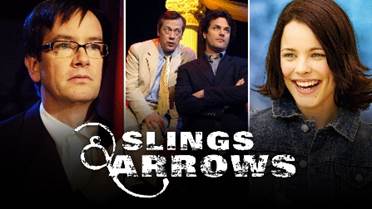 The below was first published Feb. 5, 2007:
The strike by Hollywood writers may be over soon — and hooray for that. But there's been one benefit to this otherwise frustrating TV drought — it's given us a chance to catch up on some worthy programs via DVD. And "Slings & Arrows" may be the ideal viewing choice for these waning days of the strike.
Each season of the Canadian series, which concerns the backstage drama at a Shakespeare theater festival, is only six episodes long, and all three seasons were released in one boxed set by Acorn Media on Feb. 5. The handsome and handy set includes a brand-new disc of extras, but never mind them (the extras aren't great, though the extended versions of some episodes are a nice plus).
The play's the thing, or rather the New Burbage Festival's often-hapless attempts to stage the Bard's classics — that's the main attraction. (There's more on the show here.)
"Slings," which has given showcases to actors such as Rachel McAdams ("The Notebook"), Sarah Polley (the writer/director of "Away From Her") and Canadian stage legend William Hutt, is set in New Burbage's rehearsal spaces, offices and pubs. And no TV show has ever done a better job of demonstrating why otherwise sane people are willing to risk their relationships, their financial health and their sanity, all for the love of the theater.
Those who wrote and performed "Slings" show a palpable love for language and the magic of the stage. And there are fascinating insights into what goes into creating a terrific performance. 
Continue reading

"'Slings & Arrows' Arrives on Acorn: Why You Should Watch"