Hello! It's too late to post my favorite TV shows and films of 2021, because it's now 2022 and no one cares! Or maybe someone cares. In any event, it pleases me to post this information and at least give my WordPress skills a workout.
Normally I write A Whole Thing about what the year in TV meant to me, yada yada. Who has the energy? I don't! Whatever energy I do have is going into writing a book. I am excited to bring Burn It Down into the world and I am focusing on almost nothing else for the next several months. I am nervous about writing my first book, and the world continues to be A Lot, but I have a new mantra from Gerri: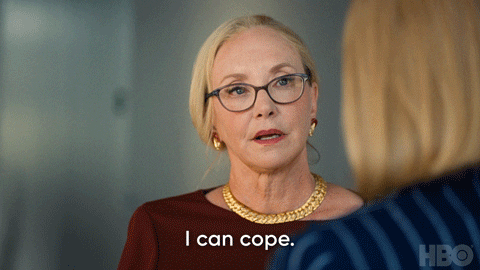 Here are the usual rules about why some shows/films are not on the lists below. It is possible that:
I didn't have time to get to it.
I sampled it and didn't like it as much as you did.
I tried it and strongly disliked it. What were they thinking?
I'm a cruel hellbeast determined to bring pain and suffering to the world. (This is probably the reason.)
Three lists coming at you: My Top 10 TV Shows (the best of the best in a very strong year!), My Top 10 Movies, and a longer Top 40 TV Shows roster (there was so much variety in what was good this year. Sincere thanks to everyone who worked hard to make good shit during a very hard time).
If I wrote about a given show recently, I linked to that piece within the list. Next to each entity, I've listed where to find it. If there is no listing, you'll probably have to rent it on one of the usual platforms. These titles' locations, of course, depend on what country you're in, and some programs and films also migrate around various platforms; it's best to check JustWatch for the most current information.
If we were in the Before Times and we were at a party, and you asked me, "What have you seen lately that's good?" of course I'd passionately advocate for everything on these lists. But I'd be especially energetic about recommending these underseen and/or under-discussed gems: For All Mankind, Reservation Dogs, We Are Lady Parts, Yellowjackets, Summer of Soul, CODA, The Green Knight and Plan B.
Update Jan 17, 2022: I wrote this post when I had only seen three episodes of Station Eleven. I watched the rest of the limited series recently, and I was even more deeply entranced by it. I've added it to my Top 10 list, which is now a Top 11 list (given the title of that book/show, this development is numerically appropriate, I guess!). I've also added a link to a piece I wrote about Yellowjackets, and it's not spoilery if you haven't started the show yet.
My Top 10 11 TV Shows of 2021
For All Mankind (Apple TV+)
Reservation Dogs (FX/Hulu)
We Are Lady Parts (Peacock)
My Top 10 Movies of 2021
Shang Chi and the Legend of the Ten Rings (Marvel/Disney+)
My 40 Best TV Shows of 2021
The Baby-Sitter's Club (Netflix) (Is this show in a shared universe with Yellowjackets? It is now!)
A Black Lady Sketch Show (HBO)
The Beatles: Get Back (Disney+) (Glyn Johns' wardrobe + vibe = 2022 goals)
Brooklyn Nine-Nine (NBC/Hulu)
DC's Legends of Tomorrow (CW/Netflix)
For All Mankind (Apple TV+)
Great British Baking Show (Netflix)
Great Canadian Baking Show (DailyMotion) (I continue to insist it's as good as if not better than the OG GBBO.)
The Great Pottery Throw Down (HBO Max)
Hawkeye (Marvel/Disney+) (Bro! Mainly for Florence Pugh + Pizza Dog!)
How to With John Wilson (HBO)
I Think You Should Leave (Netflix)
Kim's Convenience (Netflix)
Life at the Water Hole (PBS) (It's fantastic family viewing, if you're looking for something in that arena.)
Loki (Marvel/Disney+) (Mainly for Richard E. Grant + Alligator Loki!)
Only Murders in the Building (Hulu)
Oprah with Harry and Meghan (CBS)
Pennyworth (Epix) (It's coming to HBO Max soon! It's fun!)
The Pursuit of Love (Amazon)
Reservation Dogs (FX/Hulu)
Rutherford Falls (Peacock)
WandaVision (Marvel/Disney+)
We Are Lady Parts (Peacock) (It's so good! Please give this a shot!)
What We Do in the Shadows (FX/Hulu)
The Wonder Years (ABC/Hulu)
Yellowjackets (Showtime) ( I absolutely do not care if this show "sticks the landing" when it ends its first season, in part because it's already been renewed for a second season, yay! But yeah, that whole "sticking the landing" thing matters very little to me, and these are just a few of the reasons why: 1 The first eight episodes have been so damn enthralling, and even if I guessed some twists, I did not guess them all! 2 I'm entranced by the work of this stellar cast 3 The writers have constructed a truly entertaining, smart narrative and episode after episode, the show's directors, including EP Karyn Kusama, fucking crush it 4 The majority of characters are women, all of whom are quite different from each other and their relationships are appropriately complex (and all of that is still too fucking rare) 5 Having come of age in the '90s (often working as a music critic who wrote about a lot of the bands on the soundtrack), and given that I'm a similar age to Shauna, Natalie and Taissa, I relate to so much of Yellowjackets so hard 5 This is one of the few fictional narratives I've ever seen that depicts the ongoing effects trauma with intelligence, nuance and accuracy. All of that gets a hearty fuck yeah from me. Get caught up and then read Emily VanDerWerff on Yellowjackets!)
Still here? Want to read more of my work? Do that here! Love you some lists? Here is last year's Top TV List. My 2019 Best TV list. Also in 2019, I published my 101 favorite shows of 2010-2019, which is infallibly correct. Here is my 2018 Best TV List. That's a lot of #content! Please stay safe, and know that I'm rooting for you!