Hi! I have been an entertainment critic and a journalist for a long time, and these days I am a Contributing Editor at Vanity Fair (thus feel free to address me as Baroness Von Ryan). I'm also the author of the book Burn It Down: Power, Complicity and a Call for Change in Hollywood, which came out June 6.
The book is my reaction to and examination of the trends that produced #MeToo and various racial reckonings as well as the labor unrest gripping Hollywood during Hot Strike Summer. For the book, I interviewed more than 150 people at all levels of the industry, and did several deep dives on troubled productions and franchises — reporting that illuminates how entrenched the biggest problems are.
The chapter on serious problems at the hit TV show Lost and its "poisonous culture" was excerpted by Vanity Fair (there's a longer version of this chapter in the book). The week that Lost excerpt came out was a wild, tumultuous ride, and I'm beyond grateful that the great folks at the ATX TV Festival gave a panel to myself and writer/creators Javier Grillo-Marxuach and Melinda Hsu Taylor (both were sources for that chapter and many other parts of the book), so we could process the whole thing. On that panel, which is available via the TV Campfire podcast, we talked about the polar bear in the room, but also about industry change and the strikes and so much more. It was a singular moment and I was thrilled to share that moment with the ATX family. 
In any event, Burn It Down is a look at how much has changed in the American TV and film industries and how much hasn't, and it delves into why some problems remain stubbornly persistent. That said, a number of industry people are working to reform Hollywood on many different fronts, and I'm happy to say that I spoke to dozens of those brave, persistent, amusing and intelligent folks. 
I'm excited to say that the book (which is available via Bookshop, Amazon, Barnes & Noble and all other audiobook and book retailers) hit the New York Times best-seller list (twice!) and Los Angeles Times best-seller lists (a number of times but I won't put all the links here)! Publishers Weekly, in its review, said the book "makes a convincing case for rebooting Hollywood."
The day the book came out, I published this piece on Charisma Carpenter, Cordelia Chase (her Buffy and Angel character), and why the way they carried themselves in life and on screen got me through some incredibly hard times. I'm so, so proud of this essay and thrilled that Roxane Gay and Meg Pillow of The Audacity published it (read The Audacity, it rules!). By the way, you do not have to subscribe to the Audacity to read the piece.  
Here's some of the coverage of the book that I enjoyed a whole bunch (and I'm adding to this list as links come in):
And now: podcastery! My whole personality is now "I will go on your podcast and yell about Hollywood fuckery" (well sometimes it's not yelling, it's just, uh, witty and/or forceful chatting). Anyway, here's selection of radio/podcast appearances (which are generally available on most if not all leading podcast platforms):
In other news, I will be at Chicago's Printer's Row Lit Fest September 10 on a panel with author Mikki Kendall, and I'm super excited about it — come on down if you can. 
Also, I just about died (in a good way!) when this feedback from Kerry Washington came across my Instagram feed. If you find the type too small to read, she called it "great reading to contextualize this necessary strike" and "Fascinating. Devastating. Important." Wow!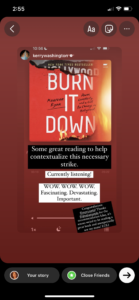 If you want to know more about the book, what I'm watching and what I'm thinking about, I have an email newsletter. Please sign up for Burner Account today! It is free! In the newsletter, I have shared thoughts on the passing of Sinéad O'Connor, the death of Twitter (which then didn't die — rude), Dark Winds, Rutherford Falls, For All Mankind and Star Trek: Picard, among other topics. By the way, here are the main places that the book and I exist online, so far anyway! 
The rest of this post mainly features links to my recent and somewhat recent writing and pre-book podcast appearances. That's what you find when you read on — thanks for visiting, and enjoy! 
Here are pieces and appearances from recent years I'd love you to check out! 
Warner Bros. Discovery is having problems but a lot of its DC or DC-adjacent TV is… good? It's true! Anyway, here are some thoughts on Pennyworth, The Sandman, Harley Quinn and The Boys, among other shows. 
I reviewed the movie Everything Everywhere All at Once for Vanity Fair. I really enjoyed it, and if this corner of the multiverse is the one where it's Michelle Yeoh's world and we're just living in it, I'm super cool with that.
I penned a non-spoilery appreciation of one of my favorite, soothing television escapes: The Great Pottery Throwdown. It's on HBO Max, and I love it so. 
I wrote about the first season of the breakout Showtime drama Yellowjackets!  
I talked to Michael Greyeyes about his career and his outstanding performance on the excellent comedy Rutherford Falls (it's on Peacock, check it out!).
I interviewed Jeff Garlin of The Goldbergs and Curb Your Enthusiasm about workplace behavior and norms. It was… a journey. 
I made lists of my favorite TV and films of 2021. 
Cowboy Bebop is a beloved anime and Netflix has made a live-action TV show based on the original series. I wrote about why I dig it for VF. 
I wrote about how Netflix's response to the controversy over a very high-profile comic's transphobic comedy special was… not good. 
I had a ton of fun writing about why I love the Netflix show Lucifer, which wrapped up its six-season run in September. Longtime Lucifans may enjoy the piece, but it's really designed to tempt newbies who have yet to check out the show (thus no spoilers about the final season, or much of anything else). It would be a sin not to give the devilish drama a chance, if my description of it intrigues you! 
I am a fan of the podcast Screaming into the Hollywood Abyss, in which those who work as writers and producers in film and TV (and beyond) talk about the challenges they've faced in their careers and what they learned along the way. The whole theme of the podcast is adversity in an often brutal industry, but I find it heartening (not to mention entertaining and just plain interesting) to listen to smart people tell good stories, and also offer insights into the obstacles they've faced and how they've climbed over them (or tunneled under them). I guested on the podcast this year and talked about what it's like to write about and report on the entertainment industry. You will not be surprised to learn there are obstacles and challenges aplenty on that path! 
For Salon, a deep dive into the story of All Rise, one of the rare TV dramas with a Black female lead, and what went wrong during the two-year tenure of its showrunner. I ultimately spoke with 30 people, 18 of whom worked directly with EP/showrunner Greg Spottiswood. In the course of reporting the story, I learned of an appalling comment Spottiswood allegedly made on a Zoom call with staff last year. But this story, which is the culmination of months of work, isn't just about one man or one comment, it's about how the entertainment industry is still in need of major reforms; it still has a long way to go when it comes to true inclusion and matters of culture, equity, race, respect and professionalism.
A 2021 story for The Hollywood Reporter on two departures at Bull (a show previously in the news for alleged harassment of actor-producer Eliza Dushku): After investigations, showrunner Glenn Gordon Caron and cast member Freddy Rodriguez are both gone from the CBS drama. I spoke to several sources at Bull, all of whom alleged an unprofessional work environment in which it was common for Caron to berate the writing staff. A writer who worked for Caron on a previous show, Medium, had this to say about his leadership: "It was a toxic environment while I was there. And now that I have much more experience and I have been a showrunner myself, I can tell you, there are a lot of different ways to tell a writer that what they're submitting didn't work for you without attacking them in a cruel way."
Never thought I'd write these stories: Warrior is coming back for a third season! It arrives June 29 on Max (the artist formerly known as HBO Max). My 2020 VF feature on the show is about, among other things, the quest for inclusion, Hollywood's biased history, Bruce Lee and the challenging path of a rare U.S. drama with many key Asian characters. In the course of reporting that story, HBO Max altered course and said it would add Warrior to the streaming service, and that happened on Jan. 1, 2021. As recounted in this April 2021 VF story on the show's revival, Warrior quickly became one of HBO Max's Top 15 most-viewed series. Lots of intel on the renewal in that piece, and also in this April GQ interview with Warrior executive producer Justin Lin. (Before taking the plunge with Warrior, if you'd like more general info about the drama, here's my review of the show's first season.)
In the early hours of Monday, Feb. 1, Vanity Fair posted its first story collecting testimony from a  number of women alleging multiple kinds of abuse and violence from Marilyn Manson a.k.a. Brian Warner. Here's a thread linking to our coverage of this story.
Media and entertainment industry executives are in a position to reward the odious men and women who encouraged the murderous Jan. 6 insurrection at the Capitol  — if past is prologue,  many of those grasping politicians and opportunistic creeps will be rewarded with convenient and possibly quite lucrative rebranding opportunities. I wrote about why media and entertainment executives should not give them those image-enhancing opportunities. They really, really shouldn't.
Please enjoy my year-end lists of 2020 TV shows (and other things) I really loved; it comes with a side order of musings on baking, cruelty and compassion.
You may have heard of the cult Nxivm (the one Allison Mack of Smallville was in), and, well, wow. A lot going on there. In 2020, HBO debuted The Vow, a 9-part documentary on Nxivm, and I reviewed it for the New York Times. I think the documentary is fascinating, thoughtful and highly relevant to our times.
On the third anniversary of the arrival of that awful Access Hollywood tape, I wrote about what occurred then and what's happened in the entertainment industry since (and believe it or not, I kinda sorta have some hope!)
I talked to more than 30 sources about Peter Lenkov, a CBS showrunner who was fired in 2020. The resulting in-depth story was the hardest of my career, and it's not just about one man, it's about a broken system that fails to train, curb and adequately supervise individuals who are allowed to amass and wield enormous amounts of power.  The entertainment industry (still) needs institutional, systemic and radical change.
For Vanity Fair, I wrote about how some Hollywood TV studios cut the pay of assistants during the pandemic, which added yet another obstacle to a path that is quite difficult for lower-level workers (and by the way, assistants' very low pay was already making the television industry's stated goal of greater inclusion very hard to achieve).
Another VF piece: I wrote about whether TV is sabotaging itself by letting the trend toward short seasons and short overall runs damage its finest ambitions. (Spoiler alert: It is!) I talked to some notable creators for the piece, and they're concerned too. This piece means a lot to me; I've been pondering the issues it explores for a looong time. (Don't write me an email about how short-run shows can be great. I promise I agree with you!) ALSO: As a companion piece to that column, check out this Q&A with Mike Schur, creator of The Good Place, who laid out the economic forces leading to generally shorter TV-show runs.
Hooray for the spring 2020 return of One Day at a Time, which was canceled by Netflix but, after a hue and cry from its many fans (including me), returned for a fourth season on PopTV. Here's an in-depth feature for the New York Times on how the comeback came together.  (I've written a number of pieces for the Times in recent years, including pieces on Gentleman Jack, Rubicon, Crazy Ex-Girlfriend [don't miss this sidebar] and Modern Love.)
For this 2019 six-part retrospective SyfyWire podcast about the legacy and impact of Lost, we talked to many veterans of the show, as well as critics and other Lost insiders, and we had a good time making it. I hope you'll give it a shot.
Many things are Bad but the fourth season of Wynonna Earp, which finally arrived in 2020, is Good. It's also super gay. Wrote about it!
The fifth season of Lucifer finally arrived on Netflix in August 2020. Yay! This show is a gem. I interviewed the showrunners, Ildy Modrovich and Joe Henderson, about where the show is going and where it's been, and I also discussed those topics with stars Lauren German and Tom Ellis.
I talked to David Simon about the renewed popularity of The Wire, the landmark HBO series he created (and which turns 18 this year). We also talked about his 2020 limited series The Plot Against America, and the state of American democracy (RIP).
Lists! I compiled rosters of my favorite 100 TV programs of the past 10 years and the 40 best TV shows of 2019.
I wrote about how the creative team behind HBO's Mrs. Fletcher depicted the lead character's internal and external transformations.
Slings & Arrows has returned to streaming, via Acorn TV, and this early-aughts Canadian gem is so good!
I am an eternal superfan of HBO's Enlightened, and I wrote about why the 2011-2013 program is  more relevant than ever and one of the best shows of the decade.
Some personal news. Extremely earnest thanks to every single person who was kind and nice and fantastic to me about this announcement. 💚🌈
I talked to Killjoys creator Michelle Lovretta about the show's excellent and quietly subversive series finale. Killjoys is one of my favorite shows of the past decade, don't sleep on its many delights. Team Awesome Force 4eva.
For Polygon, I wrote about the rise of Tentpole TV, the industry's scramble to make programs out of sci-fi/fantasy properties, and the good and bad that might come out of this major shift in the television industry.
If you want to see all my writing on the final season of Game of Thrones (plus some other TV pieces I really enjoyed writing), it's all on the TV Guide site!
You know I am down with shows that go for broke and make me cry and get fucking weird. So the week of the 20th anniversary of its U.S. debut, I wrote a tribute/viewing guide to one of the best science-fiction shows ever, Farscape (which is now on Amazon, completely with the Peacekeeper Wars wrap-up miniseries!). This piece has intel about Farscape's past (and possible future) from one of the show's executive producers and a Ben Mendelsohn mention you may not have been expecting. But the important thing about this Farscape viewing guide is that I give you permission to not watch every episode. No, really, it'll be fine! Happy Farscaping!
Here is a deeply reported Vulture piece from 2019, which contains revelations about CBS, Eliza Dushku, deep-rooted patterns of toxicity and another HR investigation at a show with a history of turmoil.
I collected a list of links to reporting about the many #MeToo stories that came out of just one media/entertainment company in the past year (this thread began in November 2018 and it's still going in December 2019 as more stories about systematic problems emerge). In an op-ed for the Hollywood Reporter, I wrote about how the work of changing abusive cultures in the industry has barely begun, and propose one possible way forward.
I wrote about Claire Fraser of Outlander for Entertainment Weekly. I really enjoyed this chance to gab about why she's not only important in her own right, she's a precursor to a wave of ambitious TV shows that unapologetically present stories about complex women.
Even if you know nothing about Doctor Who, this in-depth feature story should get you up to speed. For the piece, I talked to showrunner Chris Chibnall, Jodie Whittaker, a writer, a director and knowledgeable fans of the show; we discussed what it's all about, why it works, where it has been in its 55 years and where it's going. This piece was truly a labor of love, and I hope you enjoy it. As part of the reporting for the story, I got to do this enjoyable and enlightening interview with star Jodie Whittaker.
My favorite shows of 2018. Yay for good and great TV!
I wrote a big Sunday feature on Wynonna Earp for The New York Times, a definite high point in my professional life! Even if you don't watch the show, aren't you intrigued by the fact that this Syfy series already has multiple conventions devoted just to it? And it's been on for only a few seasons? I think the rip-roaring show's history, themes and fandom come together to create an interesting saga, one that I think has value to any interested observer of the evolving TV landscape. Also there are tentacles and mustaches, what else do you want? (A couple reported Wynonna pieces from 2019 are here and here, and just for fun, here's a 2017 review of the show.)
After more than a year of reporting on Brad Kern, a showrunner cited by dozens of ex-employees for harassment, vindictiveness, inappropriate behavior, repeated mistreatment of a nursing mom and racist comments (among many other allegations), he was finally fired by CBS. As I said in this Twitter thread, "It SHOULD NOT take multiple major stories in the press to remove a toxic exec, showrunner or anyone else with power in TV. That's not the system working: That's a sign the system has failed its workers."
The culture of CBS, and entertainment-industry cultures in general, need massive, revolutionary overhauls. Abuses of power for the most part are still ignored, enabled and whitewashed. This is a reported Vulture story, with some analysis of those issues, on Brad Kern, Leslie Moonves, CBS and the changes the past year have not brought about.
The documentary This Changes Everything is an examination of decades of sexism and the systematic exclusion of women in Hollywood. Fun stuff, right? But honestly, this film (which features Taraji P. Henson, Meryl Streep, Shonda Rhimes, Jessica Chastain and so many other amazing women) is brisk, lively and interesting, and I'm not just saying that because I'm in it (toward the end, they interview me about my reporting on this topic). This Changes Everything premiered at TIFF, had a well-regarded run on the festival circuit and got a theatrical release before arriving on Starz in late 2019. It's now streaming on Netflix.
Some stories give me frustration migraines: This one did not! Yay! I've been reporting on issues of inclusion and representation in the TV industry for many, many years (see all the links at the end of this post). HBO has made serious strides since I wrote this story about the then-abysmal stats on inclusion in at high-end TV networks in 2014. Check out this story, for The Hollywood Reporter, about the progress HBO has made on the inclusion front as of 2018. (FX has changed a lot as well.) No, the TV industry has not fixed everything when it comes to matters of representation in front of and behind the camera. But here's my two cents, as someone who will continue to shine a light on these issues whenever I can: Why not celebrate real progress when it arrives? I think a lot about how much still needs to be done. But what Casey Bloys of HBO said regarding these issues made me feel hope. I like hope! I am pro-hope.
More for The Hollywood Reporter: Devilish problems behind the scenes at American Gods during its troubled second season. Toxic showrunner 101: Don't be this guy. Also, ageism is all over Hollywood and I'm over it. Something fun: The time I met Meghan Markle, plus thoughts on women's progress, Suits and The Crown.
More for The New York Times: An interview with the great Ann Dowd on The Handmaid's Tale (there's also a mention of The Leftovers); a review/explainer of the fine true-crime series The Staircase; a review of the documentary series The Fourth Estate, which is about The New York Times; an interview with Keri Russell and Matthew Rhys about the series finale of The Americans; Jane the Virgin showrunner Jennie Snyder Urman makes it official that Season Five is the final season and talks about why that is and what she's thinking as she and the team head into the endgame of this wonderful show.
I guested on the Tom and Lorenzo podcast, check it out here, here and here. I love Tom and Lorenzo so much and we had a blast talking pop culture, film, TV and Me Too. Tom's baked goods were amazing.
More podcastery! Here is an earlier visit to the Extra Hot Great podcast, where we talked about The Fourth Estate and several other shows. I nominated an episode of One Day at a Time for the TV canon and I definitely did not tear up during that segment. This one's for the true nerds (a.k.a. my people): In a 2016 appearance on Extra Hot Great, I participated in a Star Trek TV fantasy draft and nominated a truly exceptional episode of Star Trek: Deep Space Nine for the TV canon. Here's another Extra Hot Great podcast appearance! And yet another EHG chat, in which we talk about Star Trek: Picard.
I was honored to be on a panel at CUNY's School of Journalism with New York Times critic A.O. Scott, the AP's Nekesa Moody, and writer/journalist/podcaster Kurt Andersen; CUNY Professor Janice C. Simpson moderated. The panel, which is available as a Studio 360 podcast here, was titled, "When Bad People Create Good Art."
From about 2000 and 2018, I was a TV critic at Variety, at HuffPost, and at the Chicago Tribune. Everything I wrote at Variety, from fall 2015 to spring 2018, is collected here. Here is a selection of pieces from the last few years that I would love for you to read:
In case it's of interest, I have an Instagram (warning: It's mostly pictures of my travels, animals and pretty flowers). Three other things before I get to the next section: One, I frequently get the questions, "How did you become a TV critic? How could I get into the writing-about-TV game?" and I've addressed those queries in this post. Two, I still love TV and, as you can see from the links above, I'm still writing about it, reporting on it and even doing the occasional review, but I'm no longer reviewing TV full time, and this Vanity Fair article explains why. Three, if you'd like to know more about my life and tattoos, this post from 2013 is from the middle of my family-pocalypse, this is about life stuff and my arm tattoos, and this is what I wrote when my mom died in 2016. More tattoo content: This is my back piece.
Before I joined Variety, I was the TV critic for Huffington Post. Quite a bit of that work is here. You can also find the HP pieces here, and there are archives going back to 2011 on the right side of that page. Until the fall of 2010, I was the TV critic for the Chicago Tribune. All the links to my work there are gone now.  Not great, Bob.
Here's a long 2007 feature on the production of Friday Night Lights. I visited the set in Austin way back in Season 1, and was moved and delighted to write about the way they shot the show and how that influenced the intimacy of its vibe. To this day, that long FNL feature is one of my favorite things I've ever gotten to do. Texas Forever. 
The drama that might be closest to my heart – and the show I've almost certainly written about more than any other – is Battlestar Galactica. For BSG's final run of episodes, I interviewed the writer of each episode and also offered my own thoughts; those posts are long but I so enjoyed doing them (and now that they have disappeared into a black hole, I may post them here eventually). Perhaps the most extensive entry into that array of final-season coverage is an in-depth, post-finale interview with executive producer Ron Moore; that piece also contains my thoughts on the finale as well as comments from actors Edward James Olmos and Mary McDonnell. In late 2013, I interviewed Moore again, on the 10th anniversary of BSG's debut, and you can find that conversation in both story and podcast form.  I still miss Adama and Roslin and Saul damn Tigh. So say we all.  
I wrote a ton about Breaking Bad back in the day; here are a few links to some pieces I wrote during the show's home stretch. I'm still not over "Ozymandias."
By the way, I used to be half of a podcast duo: Talking TV with Ryan and Ryan is over – and if you ever listened, thank you. And you can still listen, if it's new to you. It usually consisted of Ryan McGee and I blathering about whatever shows we were into (or not into) at that moment in time. Sometimes the podcasts contain interviews with actors and TV writers. (You can search the podcast's site for show names.) This podcast (which is also on iTunes) may just be in your wheelhouse.
In addition to the ones names above, of course there are dozens of shows I want you to watch and catch up on and love. I don't have time to list them all, but here are a few worth mentioning: I wrote quite a bit about Spartacus over the years – interviews and reviews and a "what to watch before you binge it on Netflix" explainer. If you think you're too good for Spartacus and that Spartacus is something you should sneer at, think again.
Just a few favorites from the past half-decade or so (and I need to add to this list! I really do!): Peaky fooking Blinders, the incredible Hall of Famer Rectify, and the wonderful Happy Valley are on Netflix, You're the Worst and The Shield are on Hulu (as is the cult gem Mary Kills People), get into The Americans for Lenin's sake (comrades, that final season!!) The Returned is magnificently cry-inducing and weird, Banshee and Strike Back both had wobbly final seasons but were really worth watching before that.
Comedy got so wild and risky and great in the past decade that I wrote a big piece in 2016 about how half-hour shows are crushing it even more than drama (it's good to live in a world in which half-hours as varied as Atlanta, One Day at a Time, Brooklyn Nine-Nine and The Good Place are so consistently excellent). More raves! Killjoys is my sci-fi jam. Oh, also, Black-ish! (And more Black-ish!)
Some of the shows listed above are a little bit obscure, but I watch and like a lot of popular dramas as well! Some of them are on my end-of-year Best TV lists: Check out my 20 favorite shows of 2017, with many honorable mentions. Here's my 2016 Top 20 list (I ranked shows for the first time! Exciting! I did not rank programs on two other lists of very good shows from that year). Here's my 2015 Top 20 list (which contains links to two other lists of very good shows from that year). Also, feel free to check out my 2014 Top TV list, my 2013 Top TV list and 2012 Top TV list, all of which you can treat as rosters full of viewing suggestions. Finally, follow me on Twitter if you want the full scope of my daily obsessions, enthusiasms and rants. (Spoiler: I post a lot of pictures of foxes.)
But wait, there's more! Here are a few reported stories worth noting:
Representation of women and people of color as TV showrunners for the 2016-2017 broadcast network season and what those dire statistics mean for the pipeline of future TV creators.
Representation of women and people of color as TV directors: The amount of scripted TV has doubled in the past five years, but guess who is directing most of it? I bet you don't have to guess. If you only read one or two sidebars from this story, make it the ACLU interview and/or the roundup of comments from TV directors.
[Addendum to the directors story: If you think real change is not possible when it comes to diversity and inclusion in the TV industry, think again. This story proves that significant improvements are indeed possible. Everyone in the TV industry should take note.]
Representation of women in writers' rooms. Spoiler alert: The percentages are not great. (This story is a couple years old but … yeah. Still not great.)
Film world bonus! Check out the stats on the writers and directors of Star Wars. I love Star Wars a lot. Its writers and directors are almost all white guys.
Representation of women and people of color as creators at prestige-drama outlets. Spoiler alert: I'll let Sisko take this one.
[Four years later update: HBO has changed its ways – everyone in the TV industry should take note. I'm leaving Sisko in place because there's much more work to be done.]